At the age of 11 Gene's love for guitar took precedence over youth hockey. He started building guitars in junior high, and after moving from hometown Detroit to sunny California he attended GIT – all the while playing in garage bands and gigging at every opportunity. At age 20 Gene set up shop in his parents' garage and began doing repairs as well as building and selling "Mean Gene" guitars. He also gave guitar lessons, and created a 100-page instructional book and video entitled "Mean Gene's Insane Lead Guitar."
Only 24 years old, Gene got a call from storied luthier Roger Giffin, who headed Gibson's west coast custom shop. After serving as Roger's apprentice, Gene operated the shop alongside Roger for nearly two years. In 1993 Gene moved to the Fender Custom Shop in Corona, during what many consider one of that shop's golden periods. Gene's mentors and colleagues at Fender were and still are among the leading craftsmen in the industry; including George Amicay, Jay Black, Larry Brooks, Jason Davis, John English, Kenny Gin, Alan Hamel, Yasuhiko Iwanade, Mark Kendrick, Todd Krause, the great John Page, Alex Perez, Steve Stern, Fred Stuart, John Suhr and Art Esparza who also joned forces with Gene and the PBG crew in 2013 to help manage the D'Angelico USA Master Built line.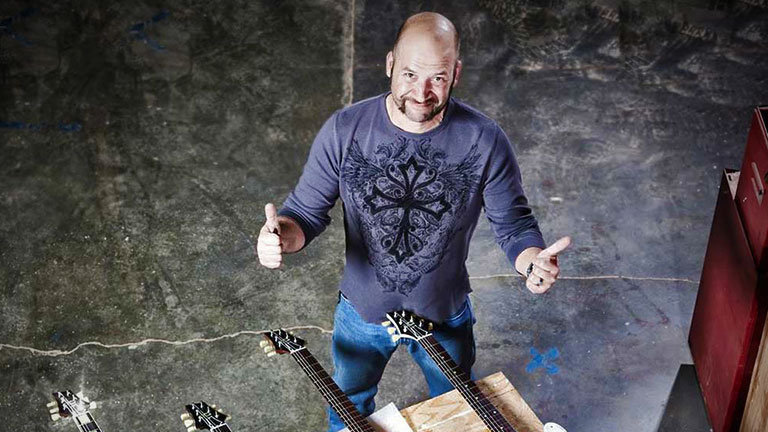 Gene rose to Senior Master Builder at Fender. Highlights include his close collaboration with Robben Ford and Jeff Rivera (Robben's tech) on three new models; a series of original Gene Baker pieces; the prototyping of the first contemporary carved Strats; the reissue of mid-late '60's big peg head Strats; and collaboration on the production of round-lam necks, twelve strings, double necks, bajo sexto's, the Showmaster Strat and the John Jorgenson signature model.
Gene eventually left Fender in order to apply his unique expertise to his own nameplate, Baker Guitars USA. Though no longer involved with Baker Guitars and the Baker Guitars name, Gene along with production manager Gil Vasquez led the company as it grew to fourteen employees producing up to 40 guitars per month, with an emphasis on high quality custom builds.
The original Baker Guitars shop closed in early 2003 after spanning 5 years beginning in 1999 due to a machinery related lawsuit. This landed Gene at Ernie Ball/Music Man for a year as engineer and production trouble shooter. This relationship was just not meant to be so in 2004 Gene opened Fine Tuned Instruments which gave birth to b3 Guitars as we know it today. FTI managed to deliver over 200 instruments with a very small crew including original Baker employee Justin Abernethy. FTI was also a job shop offering CAD work to building guitars for other brands such as Wilkins Guitars, LA Guitars, Luca Zanini Guitars and more…. The economy crash in 2009 almost brought an end to FTI so Gene went fishing for better business ideas…..
In 2009, recognizing Gene's rare expertise on both the design and production sides of the business, PBG founder Michael Bernstein asked Gene to serve as Chief Guitar Master Builder for Premier Builders Guild, a new boutique, masterbuilt instrument company based on a new approach. At the PBG guitar workshop in Arroyo Grande, CA, Gene designed and built his own b3 line while he and his expert team also built guitars designed by PBG master builders Dennis Fano (the complete Fano Guitars line) and Saul Koll (the Koll Glide series, made and sold only through PBG). The family also at points in time included a few other well known guitar brands we built for Jason Schroeder, Johan Gustavsson and Roger Giffin.
In 2012, the D'Angelico Guitars brand asked Gene and his team to build authentic, limited edition USA Masterbuilt reissues of iconic D'Angelico models. (These were be sold by D'Angelico rather than by PBG). The first of these reissues, of the 1943 D'Angelico Excel, were introduced by D'Angelico at NAMM 2013.
And what about Gene's own b3 line of guitars? Each model – Earth, Fire, Metal, Water, Wood, Ring Master – is aimed at a specific tonal space. All are precision instruments for serious musicians and embody the unique expertise and passion of a man widely considered among the very best in boutique lutherie. They are acclaimed by players at all levels, leading gear editors and fellow luthiers for their unsurpassed design and craftsmanship.
In May 2015 PBG closed the Arroyo Grande facilty and all brands have seperated from the PBG family except Fano, Two Rock and Tone King. Gene retained possesion of his b3 brand and currently building as a solo Master Builder. All new b3 models since the PBG closure have gone thru light revsions to visually notate the changing in business. All new b3 models are hand signed with a certificate of authenticity and the serial number sequence changed such as 15-001 meaning built in 2015 and "001" as the 1st guitar out the door.
Some other exciting news in the wings for the evolution of b3 Guitars so please stay fine tuned as I hope to release the information into early December 2015.
Huge thank you to all who have been supporting my wife Lisa and I as we battle breast cancer together, its a long hard year ahead but one we will win.
Be good humans, live, love and play more guitar! Lifes too short not too.