Plays in…
Johnny Hawthorn Band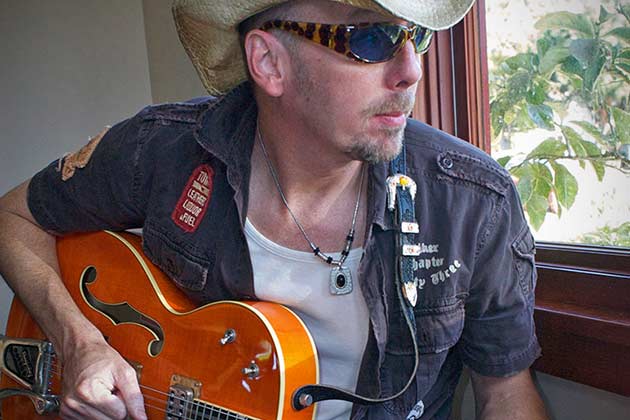 Based out of Los Angeles, CA, Johnny Hawthorn has been amplifying his reputation as a world class guitar player and songwriter. Originally from Philadelphia, PA, he came to Los Angeles as an eager player and immersed himself in the music scene.
With his versatility on guitar, lapsteel and mandolin he became the "hired gun" in town and has played and recorded for numerous local and national bands.
The first CD titled "Johnny Hawthorn Band" (released in 2006) was well received and the instrumental song "Cream" still receives substantial rotation on internet and satellite radio. He was featured in Guitar Player Magazine's "Spotlight on New Talent" column and Mike Varney wrote: "Hawthorn is a gifted player on all fronts, with phrasing reminiscent of Clapton and Hendrix…"
The 2nd CD "Death & Taxes", received 2009's Recommended CD's from "American Music" (Belgium). Blues Matters (UK) magazine wrote, "As a guitar player he can be awesome, whether in out-and-out country mode or playing full throttle blues rock."
"Pawn Shop Tattered Heart" is the 3rd CD produced & engineered by Charley Pollard with guest appearances from Gregg Bissonette (David Lee Roth, Ringo Starr all star band), Matt Bissonette (Elton John) and Arthur Barrow (Frank Zappa). This collection of songs is more rock based and brings the bands sound into a new sonic space.
It received the GUITAR PLAYER MAGAZINE'S "Editors' Faves" for July 2014 and received a glowing review from Matt Blackett who said, "…there are riffs and melodies that will surely appeal to fans of Aerosmith, The Eagles, and Led Zeppelin".
Touring with acts as a hired guitar player and recording –Toad the Wet Sprocket, Everclear, Grant Langston, Ernest Troost, Calico the Band, Amelia White, Shane Alexander, Lenny Goldstein, Debby Holiday – Johnny has also written and produced songs for other upcoming artists and produced exclusive, world-class music for television, advertising, and film.
"Outstanding tone, playability and durability to boot!"
"These strings complement any guitar I put them on - outstanding!"